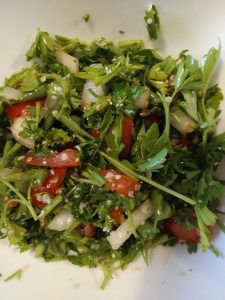 Tabbouleh (also spelled tabouli) is a super fresh herb and bulgur salad, with parsley being number one ingredient.
It's refreshing, light and packed with healthy ingredients.
I usually substitute bulgur with hemp hearts as I like the delicate taste of the hemp hearts , plus they have more health benefits than bulgur and are gluten free.
So, how so we make this yummy healthy salad ?
We will need:
1 large or 2 small bunches of parsley
1-2 tomatoes (we used roma tomatoes, but any other will do)
4-5 tablespoons of hemp hearts
Half of a sweet onion
Lemon juice
Vegetable oil.
I tried both flat-leaf and curly parsley, and I find that curly is the way to go.
Finely chop the parsley , dice tomatoes and onions, put all those ingridients into a bowl. Add 2-3 tablespoons of hemp hearts (you can put more if you feel like it), then salt and peper.
Squeeze about a half of a lemon into a small bowl, add vegetable oil ( I use sunflower), mix or whisk together. Pour the dressing on your chopped greens and gently mix the salad and enjoy!
Sometimes I just squeeze lemon directly into the bowl with chopped veggies and add my vegetable oil there.
Even though it seems like the salad requires a lot of chopping, it usually takes 10-15 min to make it.
Recipe submitted by Yuliana Rokhline